Opening of the "Logistics Competence Centre" in the Cleantech Innovation Park
With the ProServ Academy, ProServ Produktionsservice und Personaldienste GmbH is opening a logistics competence centre on the grounds of the Cleantech Innovation Park and will thus offer, among other things, qualifications in the handling of front and reach trucks in the future.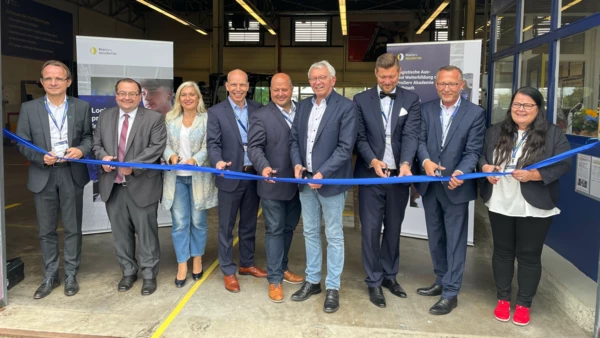 from left: P. Keller, T. Söder, M. Huml, M. Fink, H. Dremel, J. Kalb, M. Caletta, H. Schöppler, S. Domsz (Photo by ProServ)
"We need the courageous, those who not only want to do, but do!" said the Bavarian Minister of State for European Affairs to the numerous guests at the opening ceremony on 16 September 2022.
The concept of the Logistics Competence Centre launched by Proserv offers future front and reach truck drivers not only the classic training, but also customised content and training durations. The aim is to have not only short-term trained personnel, but trained and experienced specialists.
The new centre of excellence thus fits perfectly into the concept of the Cleantech Innovation Park, in which a hub for clean green mobility and innovation is to be created and in which, in addition to the development of sustainable innovations, lifelong learning is also an important component.