Handover of the building application for the Innovation Centre
Together towards the start of construction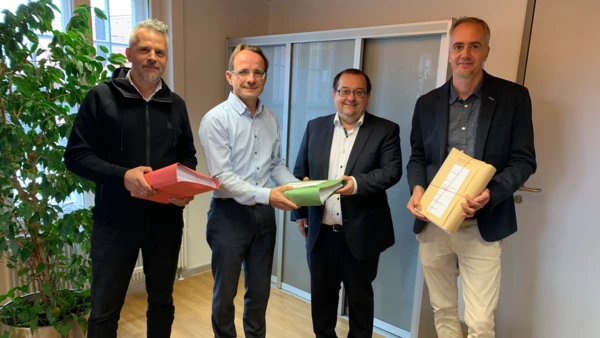 from left: Architect Frank Nickel, Peter Keller, Thomas Söder and architect Jochen Wachter (Photo by Cleantech Innovation Park)
We are celebrating the next milestone in the Cleantech Innovation Park: Peter Keller, Managing Director of the Park, handed over the building application for the Innovation Centre to Thomas Söder, Mayor of Hallstadt, on 27 September 202.
Now we have to keep our fingers crossed that the application will be approved quickly and that we can start building soon!
With a floor space of around 8,000 square metres, the Innovation Centre will be the future location of the Cleantech Innovation Park for universities and companies to jointly advance research and development projects, develop future technologies and make them marketable. A big advantage - the halls in the Innovation Centre can be flexibly divided, so they can be individually adapted to the needs of the researchers.