New tenant at the Cleantech Innovation Park
With HDE Logistik another company moves into the Cleantech Innovation Park - and creates additional jobs. More employment at the location and in the region is an important goal of the park.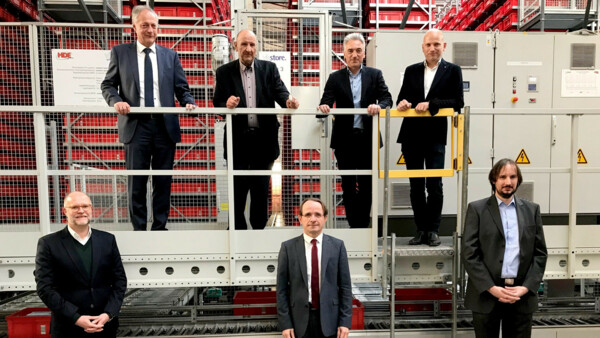 Top row from left: Christian Metzger (Michelin), Bernhard Dümler (Shareholder HDE), Stefan Kammerer (Managing Director HDE), Frank Herbst (Shareholder HDE); Bottom row from left: Rüdiger Elflein (Shareholder HDE), Peter Keller (Managing Director Cleantech Innovation Park) and Christoph Dümler (Shareholder HDE).
The Cleantech Innovation Park wants to develop future technologies in Hallstadt. Therefore, the financing of the park must also be thought about in the long term. "Rental income is an important building block for financial security and independence, so that we can push ahead with our core topics elsewhere in the park - for example, clean energy or resource-efficient production," said Peter Keller, Managing Director of Cleantech Innovation Park GmbH at the signing of the contract with HDE Logistik on Wednesday (09 March 2022). "We are very happy that with HDE we have another reliable partner with Bamberg roots on board. This will not only benefit the Cleantech Innovation Park, but the entire region."
HDE Logistik was founded in 1999 by the three Bamberg-based freight forwarders Herbst, Dümler and Elflein. The company will rent 20,000 square metres in the old Michelin warehouse in the Cleantech Innovation Park from August, initially for five years. HDE will create 40 new jobs in the park. Stefan Kammerer, authorised signatory of HDE, says: "We are looking forward to the long-term partnership - and that we can thus make an important contribution to the success of the Cleantech Innovation Park." The shareholders of HDE signed the tenancy agreement together with Peter Keller and Christian Metzger, former director of the Michelin plant in Hallstadt.
Parallel to the leasing of additional buildings, work on the construction site of the Cleantech Innovation Park is proceeding according to plan: In the middle of the 240,000 square metre site, space is being created for something new, such as the planned innovation centre. The demolition work should be completed by the middle of the year.