Architectural competition in preparation
The jury for the architectural competition "Creative Forum in the Cleantech Innovation Park" is constituted.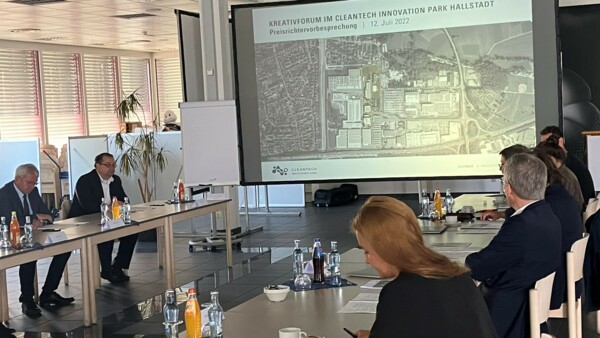 On 12 July 2022, the jury of the architectural competition for the construction of the Creative Forum met for the first time to announce a competition for the realisation of the project. The panel includes the shareholders of the Cleantech Innovation Park - i.e. District Administrator Johann Kalb, Mayor Thomas Söder and Christian Metzger from Michelin - as well as various specialist and expert judges from different architectural firms.
The start date for the competition has already been set in advance as 30 August 2022. The competition entries must be submitted by November 2022 at the latest. The competition is a single-stage, restricted competition with 13 participants. Five architectural firms have already been pre-selected and a further eight will be selected by lot. The exact prize money has yet to be determined. The jury will meet on 19 December 2022 and award the winning design.
After the meeting, a short tour of the site took place for the jury so that they could get an impression of the competition site.